Solar Security Trailer Guide
Our tips to help you find the solution that's right for you.
Intro to Solar Security Trailers
Portable, Durable & Customizable are just a few benefits of choosing STARCOMM as your jobsite surveillance provider. One of the main concerns of our customers is jobsite theft. States with the highest amount of agriculture and construction account for the highest rate of theft across the country. How do we decrease these numbers? We continue to take preventative methods such as using security cameras on the jobsite to monitor all traffic coming and going. Solar Security Trailers are a simple way of maintaining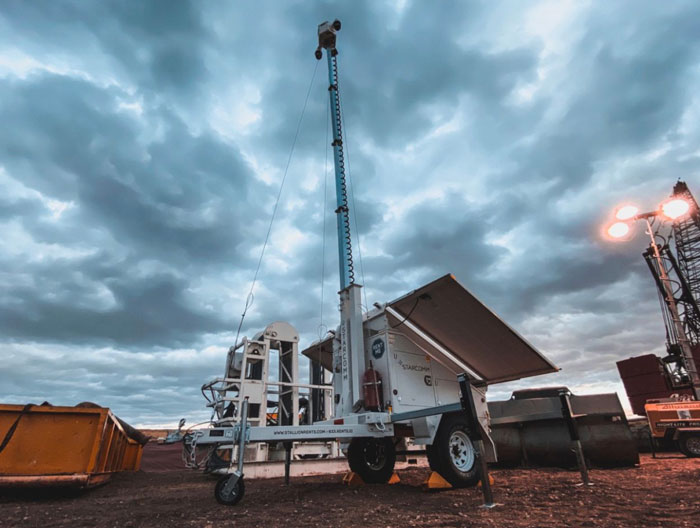 How do Solar Security Trailers work?
Solar Security Cameras come in variations. Not all solar-powered devices operate the same, but most solar-powered cameras utilize solar panels to harness and turn the sun's direct energy current into an alternate source of power that the security camera system requires. The more sun the more power. Do solar security cameras work if it's not sunny? Yes! STARCOMM solar security trailers are manufactured with a deep cycle battery operating in sync with the trailer for this varied circumstance. We can't control mother nature, but we can prepare you to have consistent video recording even during inclement weather.
Can Solar Security Trailers read license plates?
STARCOMM offers different camera head options for your trailer rental, depending on your needs. Are you concerned with auto traffic on your jobsite? You're going to want to include our license plate recognition camera in your order. The high-definition LPR cameras capture the image of the license plate. They use internal firmware to automatically process and translate what may be a blurry image into readable characters.
Advantages of License Plate Recognition Cameras:
Over 94% recognition rate (including low quality captured images)
15-40 millisecond processing of a single image
Detects format of a vehicle plate
Detects vehicle/plate movement direction in a video
When do LPR cameras come in handy? If you've ever been a victim of Jobsite or personal theft, having all of the information to take to the authorities is so important. By capturing detailed photos of license plate traffic to and from your location, you're preparing yourself should there be an incident. Common scenarios we've seen our customers use the LPR solutions include Parking lots, Construction Sites, Residential communities, School campuses, and Hospitals.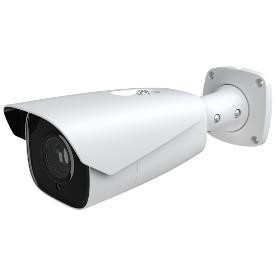 Are There Solar Security Trailers without WiFi?
Most solar security cameras require an internet connection to record their footage. Our solar security trailers connect to the internet using cellular data (LTE). Additionally, STARCOMM solar security trailers can still record footage live by connecting the security trailer to an NVR ( Network Video Recorder). It automatically uploads all recorded footage into a cloud repository for you to view later. If you want to access your jobsite security camera footage, you must plug into the NVR to download any of your recordings. If you still have questions, chat with our team of experts today.
Find the right solar security camera for your application
Best Solar Security Trailer For
Construction Sites
Our Recommendation for the best solar security camera trailer. Flexible across any of the following applications including construction:
Remote Agricultural Location 
Car Dealerships 
Airport Parking Lots 
Residential Communities 
Bank Parking Lots 
Shopping Centers 
For any location where there is both heavy foot traffic and car traffic, a License Plate Recognition Camera attachment is recommended in addition to our Solar Security trailer. Regardless if the auto traffic is to deliver equipment or merchandise or it's simply citizen traffic to and from, it's imperative that heavy traffic areas be monitored to prevent theft and increase overall safety.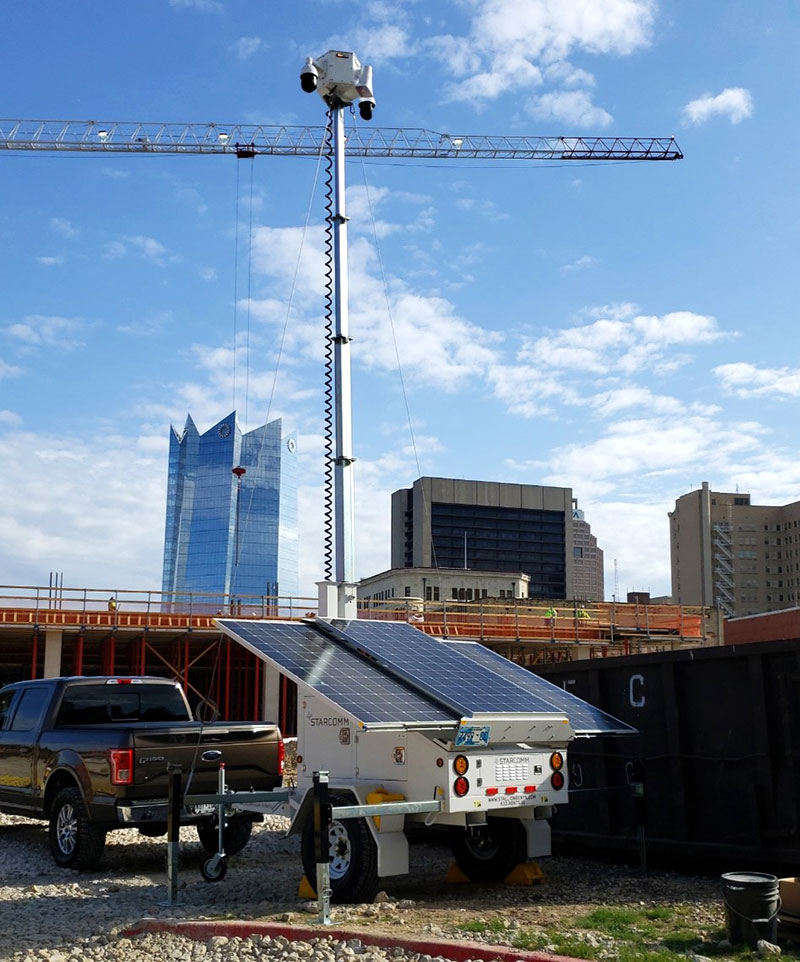 Starcomm's Recommended Security Camera Setup -
Construction Sites
(2) HD Pan/Tilt/Zoom cameras 
13′ x 6′ x 9′
Weight 2800 lbs.
(6) 150Ah deep cycle batteries
(3) 330 watt solar panel array
(1) 60-amp charge controller 
Contact Starcomm about this setup today
Best Solar Security Trailer For
Schools
Our Recommendation for any of the following applications including outdoor school security cameras:
School Campus
Medical Building
Corporate Office
For an operation whose main concern is not auto traffic, but still wants to maintain 24/7 video footage on your location here are a few options: (The first option) our standard solar security trailer with a 360 degree rotating thermal bi spectrum camera. Perfect for areas with no building available for a fixed camera solution or a changing operation where security camera portability is required.
2) HD Bi-Spectrum camera attachments. Automated to move as thermal detection is picked up in the camera's line of view.
13′ x 6′ x 9′
Weight 2800 lbs.
(6) 150Ah deep cycle batteries
(3) 330 watt solar panel array
(1) 60-amp charge controller 
Contact Starcomm about this setup today
2) Thermal IP Fixed cameras – camera attachments that can be both attached to our solar security trailer and also be mounted to a building in the case of a more permanent solution. The thermal IP fixed camera can detect both movement and heat changes as it scans and records the area.
13′ x 6′ x 9′
Weight 2800 lbs.
(6) 150Ah deep cycle batteries
(3) 330 watt solar panel array
(1) 60-amp charge controller 
Contact Starcomm about this setup today
Have another configuration in mind?
Contact our experts to help equip you and your team with the right tools for the job.
1 (833) 247-2666